Haitians head to the polls to elect a president in a long-delayed election
Comments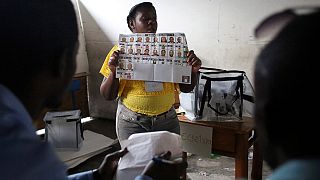 Haitians are heading to the polls in a long-delayed presidential election.
They have been waiting to vote in presidential elections since 2015, when an election was annulled over fraud allegations, and postponed last month when Hurricane Matthew hit, so many didn't mind waiting a little longer.
One man from Port-au-Prince said he left his home at 4am and came by foot so eager was he to vote.
Another voter said that 'people are not sleeping. We have decided to vote for a person with values who can change the country.'
There are more than two dozen candidates running to succeed former president Michel Martelly, who left the country in the hands of a caretaker government in February.
Wasn't easy getting materials out to #Haiti polling stations yesterday with flooding. #elections. pic.twitter.com/Cq1WK8yNKN

— Betsey Chace (@BetseyChace) November 20, 2016
One survey put local businessman Jovenel Moise as the favourite, but another frontrunner is Jude Celestin, a former head of a government construction company.
Whoever wins will have the task of tackling corruption and rebuilding the country devastated by the 2010 earthquake and last month's Hurricane Matthew.
All is calm through midday at this center in Cap Haitien. #Haiti#electionshttps://t.co/RatDyu5eJF

—

IJDH

(@ijdh) November 20, 2016