Trump attacks 'harassment' of Mike Pence at Hamilton musical
Comments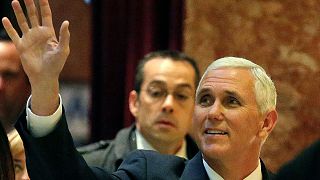 The boos from the audience and protesters outside drowned out any cheers for US Vice President-elect Mike Pence when he attended the Broadway musical "Hamilton" on Friday.
It has been said to celebrate America as a nation of immigrants, in direct contrast to the incoming US administration.
The show was reportedly interrupted and afterwards a member of the cast read out a letter to Donald Trump's deputy.
"We are the diverse America who are alarmed and anxious that your new administration will not protect us, our planet, our children, our parents, or defend us and uphold our inalienable rights, sir. But we truly hope this show has inspired you to uphold our American values, and to work on behalf of all of us", said 'Hamilton' actor Brandon Victor Dixon.
The Theater must always be a safe and special place.The cast of Hamilton was very rude last night to a very good man, Mike Pence. Apologize!

— Donald J. Trump (@realDonaldTrump) November 19, 2016
The president-elect's complaints about the cast's behaviour were quickly and politely refuted by the cast member who read out the letter.
realDonaldTrump</a> conversation is not harassment sir. And I appreciate <a href="https://twitter.com/mike_pence">mike_pence for stopping to listen.

— Brandon Victor Dixon (@BrandonVDixon) November 19, 2016
Mike Pence, who leads Trump's transition team, has criticised some of this boss's outbursts.
But as governor of Indiana, the evangelical Christian and staunch conservative was condemned for trying to introduce laws discriminating against gay people and restricting abortion.
The events on Broadway did not meet with universal approval on social media. The cast have been accused of the sort of behaviour that helped Trump's victory, with at least one call for a boycott of the musical.
Here's what the "Hamilton" cast told Mike Pence https://t.co/3kcNBCxjFcpic.twitter.com/42BvvOQEzn

— Huffington Post (@HuffingtonPost) November 19, 2016