Tintin moon drawing sells for record €1.55 million in Paris
Comments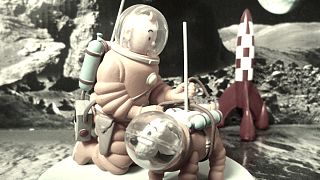 An original artwork by the late Belgian cartoonist Hergé of his hero Tintin and friends has sold for €1.55 million at auction in Paris – a record for a single cartoon drawing.
The comic strip page from the 1954 'Explorers on the Moon' story is Hergé's latest success under the hammer.
"There was already an absolute world record with €2,400,000 for the cover pages that we sold two years ago," said François Taian of the auction house Artcurial where Saturday's sale was held.
"At the beginning, we were looked upon with certain sarcasm but now the auctions are so big that we are given consideration. But that does not change the eternal quality of the great comic strip illustrators, among them Hergé, who is the king."
New #worldrecord for #Tintin ! #Herge comics drawing fetched 1,55 M€. #Snowy landed on the moon !

— Artcurial (@Artcurial) November 19, 2016
The cub reporter's adventures have delighted generations and are clearly much valued by collectors, too.
As well as an unnamed European buyer's purchase of the moon drawing, 20 ink sketches of Tintin and his friends created by Hergé for festive greetings cards in the early 1940s sold for €1.5 million euros.
A huge exhibition about Hergé is running until January 15 2017 at the Grand Palais in Paris.
L'#ExpoHergé a ouvert ses portes ! Pour tout savoir sur l'expo, on vous invite juste ici : https://t.co/nFaxqCJe5H ! #tintinpic.twitter.com/hN7f2xpM2O

— Le Grand Palais (@GrandPalaisRmn) September 28, 2016