Syria: hospitals in eastern Aleppo 'bombed out of use'
Comments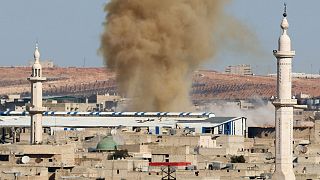 The state of Aleppo's hospitals is the subject of fierce debate this weekend following claims that bombing of the rebel-held east has put most – if not all – out of action.
Hospitals, patients... people that are trying to get well are in fact being bombed

US State Department spokesman
The Syrian city's health directorate and the World Health Organisation (WHO), the latter citing aid agencies, both said on Friday that all were out of service.
"The destruction of infrastructure essential to life leaves the besieged, resolute people, including all children and elderly men and women, without any health facilities offering life-saving treatment… leaving them to die," said Aleppo's health directorate in a statement sent to Reuters by an opposition official.
The WHO's representative in Syria said a UN-based group of aid agencies based over the border in Turkey "confirmed today that all hospitals in eastern Aleppo are out of service".
But the UK-based monitor the Syrian Observatory for Human Rights said some were still operating, although residents were afraid to use them because of heavy shelling.
Medical sources, residents and rebels in eastern Aleppo say hospitals have been damaged by air strikes and helicopter barrel bombs in recent days, including direct hits on the buildings.
Video uploaded to the internet, said to be shot on Friday, appears to show extensive damage inside a hospital in the al-Shaar district.
Reports say four hospitals in eastern Aleppo have been bombed in a 48-hour period.
The Syrian army and its allies resumed operations on Tuesday after a pause lasting several weeks. Since then airstrikes have battered the east and a ground offensive was launched against insurgent positions on Friday.
The outgoing US administration condemned the bombing based on the reports.
"We've got credible claims from legitimate, well-established agencies that are reporting this," US State Department spokesman John Kirby said on Friday. "And they are hospitals, and they are patients – people that are trying to get well are in fact being bombed. And frankly, it doesn't really matter whose airplane is dropping the bomb – it's either the Syrians or the Russians or both – the fact is it's got to stop. It needs to stop."
Syrian state television said on Tuesday its air force had targeted "terrorist strongholds and supply depots" in Aleppo. Russia has said its air force is only conducting airstrikes in other parts of Aleppo. The Damascus government describes all rebels fighting it as terrorists.
Both sides have denied deliberately targeting hospitals and other civilian infrastructure during the war, in which Russia's air force joined Damascus in September 2015.
Separately, video uploaded to a social media website purports to show children being rescued from the rubble of damaged buildings by the volunteer group known as the White Helmets.
It is said to have been filmed in the northern district of Yaqid al Adas, which has reportedly been heavily bombed by pro-government forces.
After verfying the content and contacting the uploader, Reuters' social media team said it was confident the events portrayed are genuine.