Amnesty International condemns Russia's 'draconian' foreign agents law
Comments
By
Euronews
with
Amnesty International, Reuters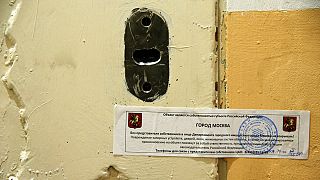 Amnesty International in Russia has strongly condemned what it calls a 'draconian' foreign agents law, ahead of the fourth anniversary of it coming into effect.
The law forces foreign-funded NGOs engaging in so-called political activities to register themselves as 'foreign agents,' a term echoing Cold War-era hostilities.
Amnesty says the legislation has forced cuts in funding from abroad, tarnished reputations, intimidated staff and seen organisations close.
Good News - Amnesty's Moscow office is back open - but NGOs in Putin's Russia are increasingly being harassed by the authorities pic.twitter.com/2pvmdv7ebV

— kristyan benedict (@KreaseChan) November 18, 2016
"We, Amnesty International, think that Russian authorities should learn to accept constructive criticism from civil society organisations and to work with these NGOs. Without any doubt this law must be abolished and we believe that one day it will happen," said Sergei Nikitin, Amnesty's head in Russia.
The NGO, which was evicted from its Moscow offices for several weeks earlier this month, also announced on Friday (November 18) that city authorities had done a u-turn and allowed them to return to the premises.
Russia denies claims it is suppressing dissent.