Anti-government protesters storm Brazil Congress
Comments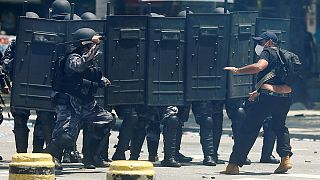 Anti-government protesters have stormed Brazil's Congress demanding a military coup.
Dozens of demonstrators broke into the lower house chamber in Brasilia late on Wednesday, clashing violently with guards.
Gathering in the middle of the plenary, many called for a return to military rule. They also blasted what they see as endemic government corruption. More than 60 politicians, including former President Luiz Inacio Lula da Silva remain embroiled in a scandal related to state oil firm, Petrobras.
The protest in Brasilia came as military police in Rio clashed with demonstrators. Legislators in the city were debating deep cuts to public spending, when protesters broke down barriers outside the state assembly.
"We're here to demand our basic rights. The rights of the people and Rio's public sector workers. There aren't any criminals or thieves here, nothing like that. It's just workers here, and that's what we get. We get hit by rubber bullets," one demonstrator said.
Rio is mired in a post-Olympics fiscal crisis that has seen thousands of public sector workers go unpaid, while Brazil as a whole is suffering its worst recession in decades. Both unemployment and inflation are over 10 percent.