At least four dead after suicide bomber strikes in Kabul
Comments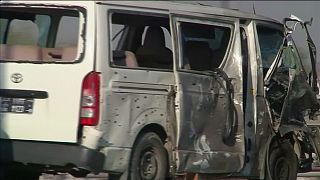 At least four people are reported dead in the Afghan capital Kabul, after a suicide bomber on a motorbike attacked a vehicle carrying national security officials.
Several people are also understood to have been wounded.
The bomber blew himself up in the Pul Mahmood Khan area of the city, according to the interior ministry.
"A huge explosion happened here. We didn't know the exact type of blast but the sound was very loud. Right after the explosion, ambulances arrived and police blocked off the scene," said Jahanzeb Khan, a local resident.
There has been no immediate claim of responsibility.
Kabul has not seen any major attacks since early September, when more than 40 people were killed in a series of three incidents over 24 hours.
Suicide attack on vehicle in Kabul kills 4https://t.co/lbX2uLvdC3pic.twitter.com/biPgp8vLRp

— The Nation (@The_Nation) November 16, 2016
In the past 3 days there's been a bomb/suicide attack every day in Kabul, all with casualties, two deadly. #Afghanistan

— Danielle Moylan (@danielle_jenni) November 16, 2016