Russia's economy minister charged with bribery
Comments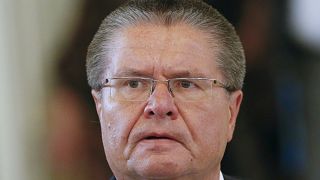 This is strange and surprising news for us

Ulyukayev spokeswoman
Russian Economy Minister Alexei Ulyukayev has been formally charged with bribery in connection with a 4.6 billion euro acquisition by the state oil company, Rosneft.
The 60-year-old technocrat is the highest-ranking Russian official to be arrested while in office since the collapse of the Soviet Union in 1991.
The allegation
The Investigative Committee, the state agency that investigates major crimes, is investigating a claim that Ulyukayev demanded a 1.8 million euro bribe in exchange for signing off on Rosneft's purchase of a stake in the mid-sized oil producer, Bashneft.
What has the Kremlin said?
Kremlin spokesman Dmitry Peskov told reporters that President Vladimir Putin was informed about the case when the investigation was launched.
He said he did not know whether the detention meant that Rosneft's purchase of Bashneft could be reviewed.
State television was quick to present Ulyukayev's detention as part of the authorities' fight against corruption.
But some think it may also be evidence of infighting at the highest levels of power and may herald a wider shake-up before the 2018 presidential election.
What has Rosneft said?
Rosneft, Russia's top oil producer, has filed a complaint against Ulyukayev.
Investigators say the complaint suggests he had put the company under threat over the Bashneft deal.
Earlier, a spokesperson, Mikhail Leontyev, was quoted by the TASS news agency as saying the company saw no risk to the Bashneft deal stemming from Ulyukayev's arrest.
Turf war
Rosneft boss and close contact of President Putin, Igor Sechin, lobbied hard to buy Rosneft, according to the Reuters news agency.
However, the deal was fiercely opposed by economic liberals in the government, who think Bashneft should go to private investors.
Ulyukayev initially opposed the deal, which is one of the most lucrative state assets to be privatised in recent years, but eventually signed off on it.
Who is Ulyukayev?
The minister has been in his job since June 2013.
He is not said to be part of Putin's inner circle, which is dominated by people who favour a commanding role for the state in the economy.
However, he does not belong to the rival camp of economic liberals either.
Ulyukayev is reportedly close to Andrei Kostin, the influential head of Russia's second-biggest lender, VTB.
The minister is the head of state-owned VTB's advisory board.
What they are saying
"The minister is detained. In the near future, investigators plan to bring charges against Alexei Ulyukayev," – Investigative Committee statement.
"The prime minister believes that the most painstaking investigation of this case is required," – a statement from the office of Prime Minister Dmitry Medvedev
"This is strange and surprising news for us," – Elena Lashkina, Ulyukayev's spokeswoman.