All-female Raid Amazone hits Palm Springs
Comments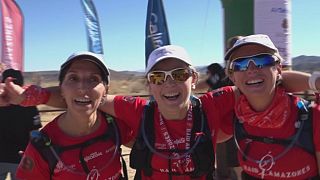 The 15th edition of the all-female 'Raid Amazone' kicked off this week.
After Guyana, Reunion, Mauritius, Sri Lanka, Kenya, Mayotte, Malaysia, Cambodia and Bali, this edition took the competitors to Palm Springs in the US state of California.
Some 96 teams of two or three members began the week with a 10 kilometre trek in the Pionneertown Mountains Preserve, a kind of warm up for the further challenges that lie ahead such as a 40 kilometre mountain bike race, a 16 kilometre canoe race and a lung busting triathlon combining all three previous disciplines.
The Raid is essentially a human adventure based on discovery – discovery of new countries and regions, a discovery of one's self and others through sport.