Lange, Mills and Clark win World Sailors of the Year awards
Comments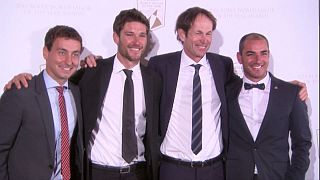 The Rolex World Sailors of the Year show has been held in the 18th century Casa llotja De Mar in Barcelona, Spain, with around 500 guests turning up to see the prizegiving and enjoy the fun.
The awards began in 1994, and since 2001 have been sponsored by the Swiss watchmaker.
There were separate categories for male and female sailors, with the British pair of Hannah Mills and Saskia Clark honoured for their two World Cup gold medals in 2016, and their triumph at the Rio Olympics.
For the men it was always likely to be Argentina's Santiago Lange, whose Olympics triumph was a fairytale even before he took the gold medal.
The 54-year-old had taken part in five Olympics before Rio, picking up two bronze medals, but so nearly didn't make it to the games.
Last year he was diagnosed with cancer which required the removal of one of his lungs. Coming back from that to be able to compete at all at the highest level was already exceptional, so winning was even more unbelievable.