A classic "Hollywood" ending for Trump's White House trail
Comments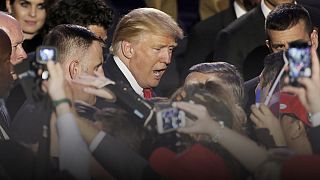 When Donald Trump threw his hat into the ring for the race to the White House
there was as much doubt as disbelief as to whether he would stay the course. But when he beat his Republic rivals for the nomination, the victory celebrations had already begun, even though the real fight was yet to start.
0:15 sot Donald Trump REPUBLICANPRESIDENTIALNOMINEE
"I'm with you, I will fight for you, and I will win for you."
Few of the Republican old guard took the outlandish candidate seriously in the early stages. His lack of political experience, however, didn't stop him when last year he declared: "I'm officially running for president of the US and we are going to make our country great again."
A battle-cry that fell kindly on the ears of the American far-right. He left his Republican opponents for dead in the primaries, sweeping aside the competition with a stream of anti-establishment rhetoric that many white, working class Americans welcomed with open arms. His tirade against Muslims and Mexicans shocked many at home and abroad, but it was music to the ears of his burgeoning support.
"When Mexico send its people, they're not sending their best. They're bringing drugs. They're bringing crime. They're rapists (…) It's coming from all over South and Latin America and it's coming probably, probably from the Middle East." (…) I will build a great, great wall on our southern border. And I'll have Mexico pay for that wall."
During the presidential debates Trump stumbled and came off as more of a demagogue than a presidential candidate.
Then came the blow that all but destroyed his campaign. Many of his prominent Republican supporters deserted his campaign when an audio recording emerged of Trump making boastful remarks seen as condoning sexual abuse against women.
During the second debate he defended his conduct by going on the attack: "Certainly I'm not proud of it but that was something that happened. If you look at Bill Clinton, far worse. Mine are words. His was action."
Defiant to the last, however, his tone became increasingly contemptuous, reducing the third presidential debate to a playground squabble.
But just over a week before polling day, his campaign received a significant boost when the FBI announced it was opening a fresh inquiry into emails discovered on Hillary Clinton's private email server while she was Secretary of State. Even though the extent or nature of the investigation at the time was unclear, for Trump there was no doubt of his rival's guilt.
"This is the biggest scandal since Watergate. Hillary is the one who sent and received classified information on an insecure server putting the safety of the American people under threat," Trump told a rally in Michigan in October.
During the final debate he provoked further scandal when he suggested he may not accept the outcome of what he called a "rigged contest", but later that day he did qualify his conditions:
"I will totally accept the results of this great and historic presidential election….if I win."