Climate summit opens on a high in Marrakech
Comments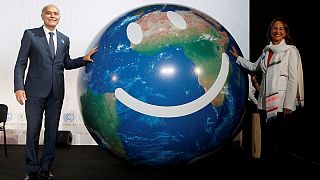 The Marrakech climate summit has begun in an atmosphere of celebration. Almost 200 nations marked the entry into force of the Paris Agreement to limit greenhouse gas emissions.
Opening the proceedings the UN's climate change chief, Patricia Espinosa reminded the delegates that they needed to walk the talk.
"Early entry into force of the Paris agreement is a clear cause for celebration, it is also a timely reminder of the high expectations that are now placed upon us all. Achieving the aims and ambitions of the Paris agreement is not a given. We have embarked on an effort to change the course of two centuries of carbon intensive development."
This flower-like solar panel is so light that you can use it to power your #COP22 كوب22# pic.twitter.com/HljQvPrZ9R

— Al-Michkat (@Al_Michkat) November 7, 2016
By the conference's end on November 18 the parties hope to define the terms of the deal – including the provision of 100 billion dollars per year to help developing countries combat climate change.
Our correspondent at the conference has more:
For the COP 22 talks, a clear objective has been set: to limit global warming to less than 2 degrees. In order to do this, the broad outlines of actions to be taken have been laid out: a transition to solar and wind power, water conservation, adapting agriculture to global warming, especially on the African continent which is hosting the international conference.