Iraqi forces push to 'within 15km of south side of Mosul'
Comments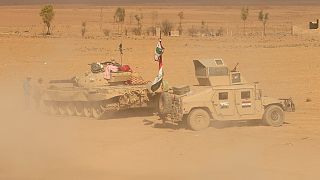 Efforts by Iraqi troops to break the siege in Mosul are seeing some success, the Army says.
Security forces say they have driven ISIL from the centre of Hammam al-Alil, a town some 15 kilometres south of the jihadists' last major stronghold in Iraq.
According to a senior commander, they overcame strong opposition to retake the town and are now within a few kilometres of a strategic airport on the edge of Mosul.
Iraqi forces have not confirmed whether ISIL has been completely pushed out from the town, which lies on the Tigris river.
Prime Minister Haider al-Abadi is said to have visited the eastern outskirts of Mosul, where troops have also been pushing forward.
The advance has been hampered by fiercer resistance than expected in some areas and by reports the Islamist militants are using local citizens as human shields.
Over a million civilians are believed to remain in the city. Others have managed to flee to refugee camps set up by aid agencies.
Mosul is the largest city under ISIL control in both the country and neighbouring Syria. Its recapture would crush the Iraqi half of ISIL's self-proclaimed caliphate across the two nations.