Iraqi forces met with 'unexpectedly strong opposition from ISIL' in fight for Mosul
Comments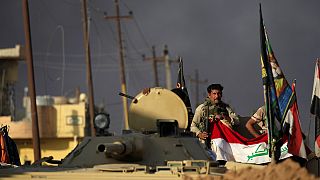 Iraqi government forces say they are steadily making ground in the fight for Mosul, but have met fierce resistance from ISIL fighters in the northern city.
Troops are fighting street-by-street and say the eastern district of al-Zahra is now 90 percent under their control.
However, AFP reports Iraqi forces were met with unexpectedly strong opposition as they tried to enter Karama, just south of al-Zahra, and had to "pull back and devise a new plan."
"It is a hard battle with ISIL fighters," said Iraqi officer, Ahmed Raad. "Because they are hiding with some families. We released some families that ISIL kept as human shields."
The United Nations, which is setting up 11 camps to house the displaced, says there is increasing evidence of atrocities being committed by ISIL in and around Mosul. Several reports have emerged of people being used as human shields, or rounded up for mass killings.
This boy recently arrived to a refugee camp after fleeing the conflict in #Mosul. We will do whatever it takes to protect children affected. pic.twitter.com/3wlBkhy6vP

— UNICEF (@UNICEF) November 4, 2016
Over a million civilians are believed to remain in the city.
The elite Counter Terrorism Service – or CTS – says troops have now recaptured six districts of eastern Mosul and have advanced some one and a half kilometres inside the city.
But eyewitnesses claim clashes continue in some of the areas said to have been retaken.
Thousands of people have fled the violence.