Pro-Kurdish HDP leaders arrested in Turkish counter-terrorism investigation
Comments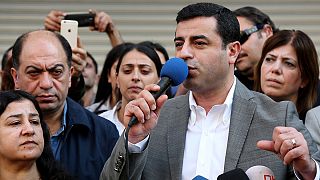 Turkish police have detained the co-leaders of the pro-Kurdish Peoples' Democratic Party (HDP) party as part of an ongoing counter-terrorism investigation.
Selahattin Demirtas was arrested at his home in Diyarbakir, in the south east of Turkey.
The party published a video purporting to show the arrest of his co-chair Figen Yuksekdag. After police reportedly forcefully entered her apartment, she can be heard refusing to read a warrant and calling the prosecutors 'thugs.'
#Yüksekdağ: Savcınız da haydut siz de haydutsunuz! pic.twitter.com/drI9aPry7u

—

HDP

(@HDPgenelmerkezi) November 3, 2016
Both leaders were wanted over reluctance to testify about crimes linked to "terrorist propaganda," officials said.
The HDP's head office, located in the centre of the capital, is also said to have been raided by police.
According to the Turkish Interior Ministry, 13 detention orders for MPs were issued. However, two of those were not taken into custody as they were abroad.
Earlier in 2016, rules granting politicians parliamentary immunity were lifted under the state of emergency currently in place in Turkey.
What is the
HDP

?

With 59 MPs, the HDP party is the third largest in the 550-seat Turkish parliament. Its success in the last election left President Recep Tayyip Erdogan's AKP party without an absolute majority.

The government accuses the HDP of having ties to the PKK Kurdistan Workers' Party, classed a terrorist organisation by Turkey, but also by the European Union and the US. The party has consistently denied having any link with the group.