Watch: 84-year-old man trips armed jewellery thief
Comments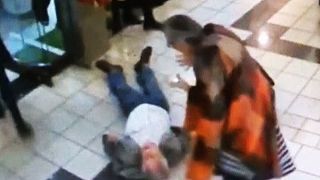 84-year-old Chilean Raul Munoz shocked onlookers and his wife on Saturday, October 29, when he leapt into action to stop an armed robber.
CCTV footage from the shopping centre where the incident took place shows the elderly man throwing out his leg in an attempt to trip the thief, who was fleeing a jewellery store after an attempted robbery.
Munoz falls heavily to the floor from the the impact of the collision and the 15-year-old would-be-thief makes his getaway.
Far from being impressed by his heroics, the 84-year-old said that his wife; "did not speak to me for four hours", as she was so upset at the risk that he took.
Of his actions Munoz says: "It was instinctive, if I had thought about it, I would not have done it. Nobody does anything. We're all so stupid that we let them get the better of us, what are we supposed to do?"
The elderly shopper was taken to hospital, but released shortly afterwards, reports say.