Tearful goodbyes as last migrants leave Calais 'jungle'
Comments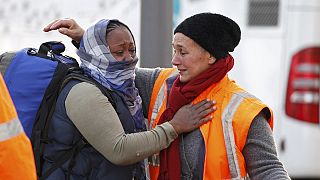 There were tearful goodbyes as the last migrants left the Calais 'jungle', as French authorities declared the camp empty.
Families, women, and unaccompanied female minors were among the last few hundred residents to leave.
They are being bussed to processing centres where they can seek asylum in France or the UK.
Nearly 7,000 people have left the camp in the past ten days.
A diplomatic row erupted between France and Britain over who was responsible for the young refugees, after the UK accepted just a few hundred unaccompanied minors.
Many who have fled the war-ravaged areas such as Afghanistan or Sudan's Darfur region, were packed onto buses, not knowing what awaits them at their next destination.
#CalaisJungle today, incredible to think it was once a heaving community, home to some 7K+ from around the world pic.twitter.com/p6fLPsbWvH

— Maya Evans (@MayaAnneEvans) November 3, 2016