Watch: How ice has melted in the Arctic Ocean since 1984
Comments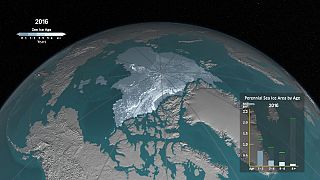 The stark reality of climate change is unmasked in this new time-lapse video from NASA.
It illustrates the extent to which sea ice has melted in the Arctic Ocean over the three decades between 1984 and 2016.
NASA says the older, thicker ice has either been thinned or melted away.
It claims in September 1984 there were 1.86 million square kilometres of old ice (more than five years old) left throughout the Arctic Sea, compared with 110,000 square kilometres in September 2016.
Experts have said there could be an ice-free Arctic Sea as early as the 2030s.
"What's happening now more is that the old ice is melting within the Arctic Ocean during the summertime," said Walt Meier, a sea ice researcher at NASA's Goddard Space Flight Center in Greenbelt, Maryland. "One of the reasons is that the multi-year ice used to be a pretty consolidated ice pack and now we're seeing relatively smaller chunks of old ice interspersed with younger ice. These isolated flows of thicker ice are much easier to melt.
"The older ice was like the insurance policy of the Arctic sea ice pack: as we lose it, the likelihood for a largely ice-free summer in the Arctic increases."
Sea ice at the Earth's poles helps regulates the planet's temperature. For example sea ice, because it is white, reflects the sunlight, keeping the area cooler.