Suspect captured after killing of two police officers in Iowa
Comments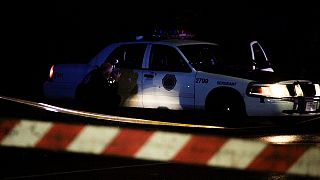 In the US, police have captured a man suspected of killing two police officers.
Authorities say the officers were ambushed as they sat in their patrol cars in Des Moines in Iowa in separate attacks.
Police quickly named Scott Greene as a suspect.
The man is reported to have had a recent run-in with the police after holding up a controversial Confederate battle flag at a sports stadium.
The flag is associated with the pro-slavery south in the US civil war.
The officers were found dead in their vehicles about three kilometres apart in the early hours of Wednesday.