Italy quake forces closure of dozens of schools
Comments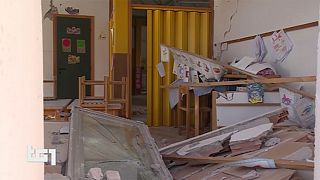 New aerial footage has been released of the damage wrought on towns and villages in central Italy following Sunday's 6.6 magnitude earthquake.
While no-one was killed or seriously hurt by the tremor authorities say more than 40,000 people were left homeless.
Along with other critical infrastructure, several schools in the quake zone were also badly damaged, with officials saying it could take months, possibly longer, before they reopen.
"I don't think the school will be open before the end of this school year, realistically, it's going to open the following school year,'' said the Mayor of the quake-hit town of Muccia
Thousands of people have moved to hotels and temporary accommodation on the Adriatic Coast.
For now, it's not clear how many schools have been affected by the disaster.
"Our fear is the children could basically lose a whole school year. The authorities are saying that we have the opportunity to enroll in schools here on the coast but we don't know yet where our future will be," one women said.
While Prime Minister Matteo Renzi has pledged to rebuild the shattered communities experts have warned as many as 42,000 schools in Italy may need to be made quake proof in case of future disasters.