America's Republicans fail to connect with Latino electorate
Comments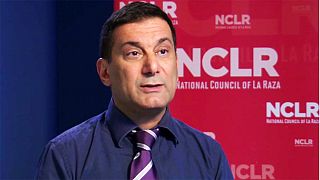 Monday night is dance classes night at the Paladar in Rockville, just outside Washington.
Maryland's Latino community turns out in strength; US-born, but also immigrants from Cuba, Mexico, Puerto Rico, or El Salvador.
What we definitely do see with Donald Trump is a demonizing and an insulting rhetoric concerning Latinos.

National Council of La Raza
Previously conservative-leaning, family-minded and Catholic with many small business-owners, this electoral bloc has drifted towards the Democrats in the last decade as the Republicans have got tough on immigration.
Republican presidential candidate Donald Trump's painting of Latinos as thieving rapists he would like to wall off in Mexico has many people worried.
"I'm very concerned. And it's embarrassing that we are actually voting for this man. Some people are actually voting for this man?" said one woman taking a break from the floor.
"He doesn't have respect for women and we Latin people, I think I just don't agree with him and I don't think… he is not my favorite person right now," said her friend.
"There is a lot of activity unlike any in the past, activity among the Latino community,
it's big! It's going to be something that is probably going to have an effect on the election outcome," said one man.
Just 12 years ago the Spanish-speaking George W. Bush reached out for the Latino vote. This year there will be more than 27 million registered Latino voters, an historic high, or 11.9% of the electorate. Very soon they will overtake African-Americans as the largest minority group.
And, says the largest Latino advocacy group National Council of La Raza, Trump only has himself to blame.
"What we do see with the candidates are two completely different interactions with the Latino community and what we definitely do see with Donald Trump is a demonizing and an insulting rhetoric concerning Latinos, which definitely is a narrative we don't want to see. And, of course, if you are going to insult us, we are not going to sit around like a punching bag and take those punches and we are going to punch back with our vote," said spokesman Julian Teixeira.
Poll of #Latinos shows further erosion in the GOP nominee's ratings https://t.co/ecXScnh6XB via houstonchron</a> <a href="https://twitter.com/latinovictoryus">latinovictoryus

— Cesar Blanco (@CesarJBlanco) 5 octobre 2016
Presidential and Congressional power could be decided in Florida, Colorado, Nevada or even North Carolina, battleground states where the Latino vote is key to victory in November.
"George W. Bush got roughly 40 percent of the Latino vote, Mitt Romney 27 percent. This year, Donald Trump will likely score even less. Republicans will need to engage with Latinos much more seriously in the future, if they don't want to lose the presidency permanently," reports euronews' Stefan Grobe.