Trade on agenda for first UK visit by Colombian president
Comments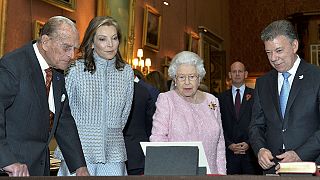 Trade is on the agenda for the first ever state visit by a Colombian president to the UK.
President Juan Manuel Santos is on a three-day visit, hoping to strengthen business links following the vote for Brexit.
Santos spoke to the British Parliament, saying: "Pursuant to the agreements to be reached by the UK and European Union, I wish to reiterate before this parliament that Colombia is very willing to strengthen still further its position as trade and investment partner of the United Kingdom."
Santos, who is a Nobel Peace Prize laureate, has also talked about hopes for a lasting peace agreement with the FARC rebel group, to enable further growth and investment.