Protest called off after Pakistan court pledges corruption probe
Comments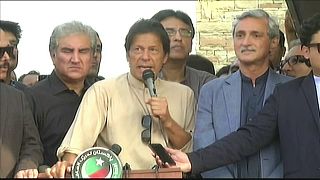 Pakistan's Supreme Court has ordered an inquiry into a corruption case linked to the prime minister.
Opposition figures had called for an investigation into Nawaz Sharif and his relatives after the leaked so-called Panama Papers appeared to show they owned offshore companies and assets.
The family denies wrongdoing and there was no mention of Sharif himself owning any offshore companies.
The court decision has prompted opposition leader Imran Khan to drop a threat to paralyse the capital on Wednesday.
The former cricketer told supporters there would be a rally of celebration instead.
"On the advice of the Supreme Court, we have decided that tomorrow we will thank God and celebrate a Day of Thanks at (Islamabad's) parade ground," he said to the crowd. "Tomorrow, God willing, we will gather a million people."
There have been daily clashes between police and Khan's supporters in the build-up to the threatened protest. The government has cracked down on workers from his party.
Ruling officials have claimed Khan has been trying to revive his flagging popularity by setting up a violent confrontation in Islamabad.
Scores of the opposition leader's supporters have been arrested, while a motorway linking his political heartland to the capital was closed.
The authorities re-opened it after the Supreme Court decision.