Desperate measures for Syrians trying to reach refugee camps
Comments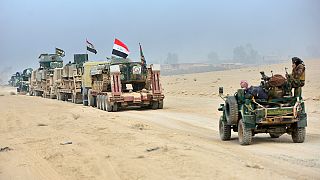 Stuck in a sand storm, with no obvious solution of where to go.
Syrian refugees are reportedly crossing the border into Iraq with the help of smugglers, attempting to join Iraqi refugees fleeing fighting in Mosul.
The goal is to get from Dashashah in Syria to a sprawling refugee camp known as al-Hol.
But the route is not easy; hundreds are currently stranded, buffeted by sand storms.
One female Syrian refugee told reporters: "We came with a smuggler, we went from one village to another and we were walking for a long time and for long distances. We have been here for 14 days with my family."
Another woman said: "We left because of the airstrikes and fire. We live in Hasaka and we came here so we can escape ISIL violence.
"We came here and now we are stuck. We can't get out. We are refugees too. Look at our situation, look at the kids. We are dying from this dust."
Charities have been warning that refugee camps across the region might not be able to cope with an exodus of civilians fleeing fighting.
The UN Refugee Agency is predicting that at the al-Hol camp alone is expected to be inundated with more than 100,000 refugees.