Choi Soon-sil, at centre of political storm over Presidential ties in South Korea, is arrested
Comments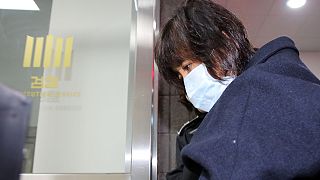 The woman at the centre of a political scandal in South Korea which threatens the leadership of the country has been jailed.
Prosecutors are holding Choi Soon-sil for a second day of questioning over her friendship with President Park Geun-hye. Choi is accused of influencing government to make personal financial gains.
The affair has triggered passionate protests, with one man attacking the prosecutors' office with a large excavator, before being arrested.
Public anger was provoked when it was revealed that Choi, an unnappointed confident was given access to and altered presidential speeches after Park's election in 2013, and she used her influence to extort money for her non-profit organisations. Suspicions also surround Choi's shamanism and her cult leader father.
Park's approval rating is at a record low, and thousands of protesters took to the streets of Seoul over the weekend to call her resignation.
Young protesters use #kpop as protest song, satirizing Choi Soon-sil pulling President Park's, nation's strings pic.twitter.com/iEPahG76Nd

— Joseph Kim (@josungkim) October 29, 2016