Europe condemns more journalist detentions in Turkey
Comments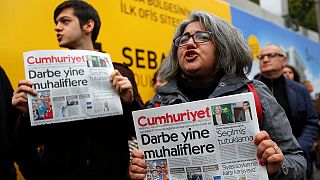 The European Union has strongly criticised the detention of the editor and senior staff at a leading Turkish opposition newspaper who've been accused of supporting July's failed coup.
European Parliament President Martin Schulz took to Twitter to express his concerns:
The detention of Murat Sabuncu and other #Cumhuriyet journalists is yet another red-line crossed against freedom of expression in #Turkey

— Martin Schulz (@MartinSchulz) October 31, 2016
But the ongoing massive purge seems motivated by political considerations, rather than legal and security rationale #Turkey

— Martin Schulz (@MartinSchulz) October 31, 2016
The latest detentions came a day after 10,000 more civil servants were dismissed and 15 other media outlets were closed.
Turkey is currently under a state of emergency, imposed after the failed coup three months ago, in which more than 270 people died. Critics have accused President Recep Tayyip Erdogan of using an emergency law imposed after the coup attempt to silence opponents. Since then, a total of about 110,000 people have been sacked or suspended and 37,000 arrested.
Opposition lawmaker Mahmut Tanal of the Republican People's Party (CHP) said of the crackdown against Cumhuriyet:
"This operation was carried out against those who are in favour of a state of law……against those who defend the secular judiciary system……against democracy….. against freedoms. "
The journalists at Cumhuriyet are suspected of links to US-based cleric Fethullah Gulen, accused of plotting the coup, as well as Kurdish militants. The government argues that Gulen's network of followers is so vast that a wholesale purge is needed.
A government spokesman justified the arrests. Turkish Deputy Prime Minister Numan Kurtulmus:
"This is not an operation directed towards the journalists of Cumhuriyet newspaper, it was directed towards Yenigun News and Publishing, the media company which owns Cumhuriyet."
The paper has long been a thorn in the side of the Turkish government. In 2015 it reported that Turkey was arming extremists in Syria which Ankara has denied.