Copenhagen reminds visitors of Halloween's European roots
Comments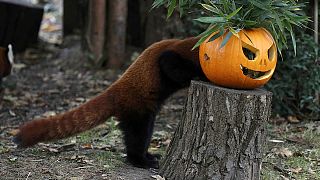 Halloween has become America's second most important holiday commercially – but the origins of the annual appearance of pumpkins and other ghostly paraphernalia are found in Europe.
It's thought to have started as a pagan festival before becoming infused with Christianity.
In the Danish capital Copenhagen, a Halloween display in the Tivoli Gardens is out to spook visitors – and remind them of where it all started.
"Halloween is actually an European tradition, but nobody knows that today. Halloween got to the U.S. by the immigrants, who took it to the States and brought the tradition with the pumpkins," said Asser Skude, a minister.
In Copenhagen the event – which includes resident zombies ready to pounce on unsuspecting tourists – attracts thousands of visitors each year.
Celebrated in different ways around Europe, in neighbouring Sweden Halloween lasts a week.
One Swedish visitor to Tivoli said it had crept up on the whole country, like a ghost at night.