Iceland's radical Pirate party senses victory in parliamentary poll
Comments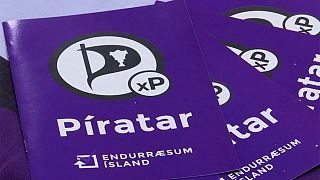 Iceland 's anti-establishment Pirate Party is on course to either win or finish second in the country's parliamentary elections on Saturday.
Formed four years ago by a group of anarchists, hackers and internet freedom activists, the party favours direct democracy and the decriminalisation of drugs. It also wants to offer asylum to Edward Snowden.
Birgitta Jonsdottir, figurehead and one of the party's three members of parliament said: "We are very much about modernising our system. We are sort of a new movement that is a movement that anybody can be part of – and we have managed to catch and capture the spirit of change with so many young people in Iceland."
The Pirates have been riding a wave of anger against Iceland's political establishment, prompted by the perceived corruption after the 2008 financial crash and the Panama Papers scandal in April.
That scandal forced Prime Minister Sigmundur David Gunnlaugsson to resign after it emerged he and his wife held bank accounts in an offshore tax haven.
The Pirate Party has promised to devolve power to the people through a new national constitution that would introduce greater government transparency and direct democracy, and place the country's natural resources under public ownership.
That radical message appears to have struck a cord with many of Iceland's 320,000-strong population, notably the young.
"All the old parties have been tried out, you can say that, since the (financial) crisis, and people have not been happy with how they managed austerity or how they managed the economy, and people have also been calling for more democratic reform, and this kind of opens up a space for new parties," said Eva Heida Onnudottir, a politics professor at the University of Iceland.
While the conservative Independence Party is polling similar numbers, Saturday's election could see the Pirates win between between 18 and 20 seats in Iceland's 63-member parliament, putting them in poll position to form a coalition government.