Children still stranded after Calais camp bulldozed
Comments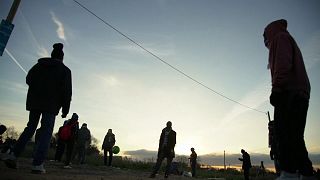 Up to 200 children spent the night at a makeshift school on the edge of the Calais 'jungle' after spending the previous night sleeping rough.
The tent city, which was home to thousands of migrants hoping to make it to Britain, was bulldozed in just three days, some unaccompanied minors were relocated to shelters elsewhere in France, but others are determined to cross the Channel.
One young migrant who had been in the camp for eight months said: "My all friends go. All friends. I have in the UK, my sister, my two cousins, everything. Some people from here go, they have no anyone in UK. Why am I not going to UK? I want to go to UK."
Britain is accepting a small number of children whose families are already in the country, while France says it will rehouse them, both are blaming the other for not doing more.
"The authorities have not offered a solution. I mean, if It was not for us where would these kids be sleeping? In the Jungle?" asked Care4Calais volunteer, Gloria Micallef. "It's really unsafe. There was a massive fire by the bridge yesterday. The jungle was never a place for kids. Never. Even when it was okay-ish and it's definitely not a safe place for kids now."
The Calais camp became a symbol of Europe's failure to cope with the migrant crisis. With it gone, aid agencies are pushing authorities to not to fail in their duty to look after the children.
Les travaux se déblaiement continuent, il ne reste déjà plus grand chose de la jungle de Calais #AFPpic.twitter.com/2SIcCplFRU

— Virginie Grognou (@virginieafp) October 28, 2016