Calais' children forced to sleep rough for second night
Comments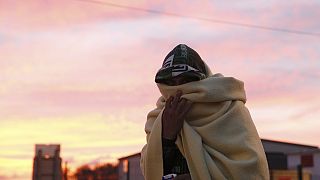 Dozens of unaccompanied children are said to have faced a second successive night without shelter around the ruins of the so called 'Jungle' camp in Calais.
Despite French officials declaring the site now empty, charities and campaigners say many minors still remain unregistered in the area.
They have accused the authorities of abandoning the children and breaching their human rights.
Baroness Shaista Ahmad Sheehan, a member of the UK House of Lords said:"There are definitely minors in there…….Hiding your head in the sand isn't going to make people disappear. People are here. I know the French authorities would rather that they weren't here but they are here. We need to address the issue, not say 'it's not our problem' and leave for the night and leave it to voluntary organisations to sort out the mess."
Despite facing heavy criticism that proper relocation plans were not put in place before demolition, French authorities say some 6,000 people have been evacuated from the site.
Activists say they are concerned hundreds of migrants may have fled the camp rather than take part in a government programme to rehouse them across the country.
It's also been alleged that the authorities lured some minors from the site near the French port, later abandoning them.