Video shows burglar metres away from residents
Comments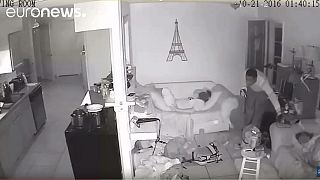 This footage, released by the Brevard County Sheriff's Office, shows the moment burglars target a family home in Florida while its residents sleep in the same room.
The two men stole several credit cards, a mobile phone, and even a handgun from the home in Rockledge, Florida.
This home security footage shows one of the thieves rummaging through the possessions of the people sleeping on the sofas as he steals.
The perpetrators also entered a room where the family's children were sleeping to look for valuables.
The brazen robber doesn't seem at all nervous as he shines his spotlight around, before finding a mobile phone and handing it to his accomplice.
The video also appears to show the second thief standing in the doorway with a handgun. It is unclear if this is the same gun which was reported stolen from the car outside the property.
The burglary happened at around 1am local time on Saturday, October 22.