Putin says Russian military threat to NATO is 'imaginary'
Comments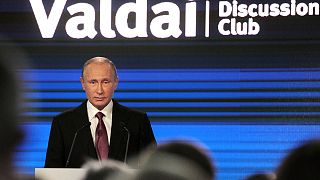 The finalisation of NATO's plans at a summit this week to send troops to the Baltic states and eastern Poland has been greeted frostily in Russia.
The Western military alliance intends to send an initial contingent around 4,000-strong.
Foreign policy specialists from East and West have been meeting in Sochi under what has been described as a "Cold War" shadow in the Russian resort.
The Russian president took part in the final session of the Valdai Club's gathering of foreign policy experts.
"New imaginary threats are being created all the time, like the so-called Russian military threat. It's of course very profitable because: people can ask for bigger military budgets in their countries, or allies can be made to bend down in some superpowers' interests, or see NATO spread to get its infrastructure: military units and weapons closer to our borders," Vladimir Putin said.
In the biggest military build-up on Russia's borders since the Cold War, the US has promised troops, tanks and artillery to Poland. Britain has vowed to send fighter jets to Romania. Germany, Canada and other NATO allies have also pledged forces.
The plan follows Russia's annexation of Crimea in 2014.