Italian troops to join NATO mission in Latvia
Comments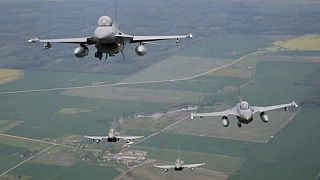 Recent Russian military exercises in the Baltic region has left some European countries rattled.
NATO has responded by beefing up its defences in the Baltic states and Poland. In Rome, Secretary-General Stoltenberg spoke of the alliance's concerns.
"In recent weeks Russia has deployed missile systems close to alliance borders that could carry nuclear weapons. […] Allies are deeply concerned about this behaviour, we will continue pursuing our policy of strong defence combined with political dialogue."
The Italian Foreign Minister Paolo Gentiloni announced that 140 Italian troops will be joining a NATO mission in Latvia, although he played down the significance of recent events, saying the decision was taken six months ago and was not connected.
Italy will lead an ultra-rapid action force in Latvia, equipped to intervene in an emergency situation within five days, Stoltenberg told Italian media. Under a deal made in July, NATO pledged to move four battalions of up to 3,000 to 4,000 troops into northeastern Europe on a rotating basis.
Russia responded to the news with the foreign ministry spokesperson saying that NATO is building new dividing lines in Europe. While the leader of the Five-Star Movement said Russia is a partner, not an enemy.
La Russia è un partner essenziale, non un nemico #IoVoglioLaPace

— Gabriele Gamberoni (@gamberoni051) October 14, 2016