Canada PM Trudeau cancels Europe trip with CETA deal still in limbo
Comments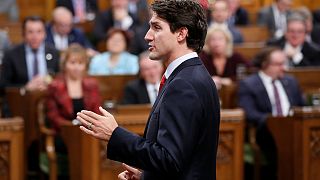 He was supposed to be in Europe on Thursday for the signing of a landmark free trade deal with the EU.
But Canadian Prime Minister Justin Trudeau has pulled out of a scheduled summit in Brussels after politicians there failed to break their deadlock over the deal.
Belgium's Wallonia region led by Socialist Paul Magnette has effectively vetoed the Comprehensive Economic and Trade Agreement (CETA).
All 28 EU governments support the deal, which has been seven years in the making, but Belgium can't sign up until it gets consent from all its sub-federal administrations.
The objections of the mainly French-speaking region include fears that agricultural imports from Canada will negatively impact Europe's farmers.
European Council President Donald Tusk has said there would be consequences for Europe's global position if it failed to strike a deal with Canada, "the most European country outside Europe and a close friend and ally".
Talks were continuing in Belgium on Thursday in the hope that a compromise deal can be reached – and signed at a later date.
Belgium's former prime minister, Guy Verhofstadt, currently President of the Alliance of Liberals and Democrats for Europe, is remaining optimistic.
#CETA is not dead and we shouldn't give up on it either. I'm confident we'll find a deal in November that can be signed in December. pic.twitter.com/n6F1igR6nz

— Guy Verhofstadt (@GuyVerhofstadt) 25 octobre 2016
So, to, it seems is the Canadian prime minister.
Trudeau 'confident' CETA crisis is nearly over https://t.co/JVNYBmxwpo@GlobePolitics#cdnpoli

— The Globe and Mail (@globeandmail) 27 octobre 2016