Video: Man chases runaway car across busy motorway
Comments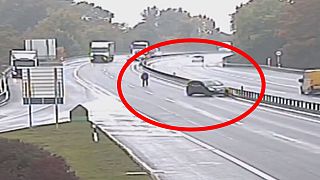 A driver near Colombier in Switzerland had an incredibly lucky escape last week as he chased his car across a motorway.
The man can be seen pulling over onto the hard shoulder to talk to a lorry driver when his vehicle begins to roll away, crossing two lanes of traffic and ricocheting off the central reservation, before becoming lodged against a signpost.
Local police, who released the footage, have said it was "completely crazy" that despite the amount of motorists who witnessed the incident, no one had reported it to them.