Kerber, Keys advance at WTA Finals in Singapore
Comments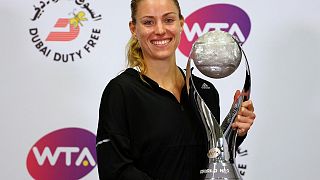 Angelique Kerber at last has her hands on the World Number One trophy, with the ranking hers despite whatever happens at the season-ending WTA Finals in Singapore.
Kerber won two grand slams this year and the German, at 28, is the oldest-ever first-time number one, and the 22nd to hold the honour.
As far as her progress in the tournament goes, she eased past Simona Halep in straight sets for her second round robin win of the week. She will only need to take a set off her next opponent on Thursday to go into the WTA semis for the first time.
That opponent will be Madison Keys, the 21-year-old American producing a near-flawless first set in a straight sets win over Dominika Cibulkova of the Czech Republic.
Cibulkova put up more of a fight in the second set, but Keys didn't even have to face a break point in her 6-1, 6-4 win and the world number seven's speed and big hitting qualities were amply on display, hitting 16 winners and only four unforced errors.