Battling back from gunshot wounds in Chicago
Comments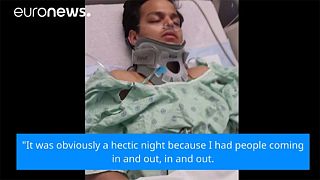 In April 2016, 18-year-old Jonathan Annicks was shot while on his way to his brother's car in his home town, Chicago.
He was looking for a cell phone charger, but moments later, a gunman approached and began shooting at Jonathan through the car window.
Seven shots were fired. One found its mark and damaged his spinal cord.
Jonathan is now paralysed from the mid-chest down.
Although a survivor, he is one of thousands of people in Chicago affected by gun violence sparked in part by gang wars in the city.
It is a wave of violence that Chicago police are struggling to cope with. August 2016 was the city's deadliest month in nearly 20 years.
There have been more than 600 homicides in Chicago so far this year, a number that eclipses the nearly 500 recorded homicides the year before, according to the Chicago Tribune newspaper.
"I couldn't really stress about why I had been shot or why me, because it already happened", Annicks said. "There was no point in going back and sulking over something that I couldn't change."
Jonathan's story is one of resilience. Despite suffering from a life-changing injury, he has refused to let his ordeal hamper his life.
Having to cope with the loss of his then girlfriend to brain cancer less than a year before the shooting has given him a determination to keep going. He is learning how to drive using hand controls to operate his car's brake and gas pedals.
He also attends regular physical therapy classes to strengthen his upper body and has enrolled at DePaul University in Chicago, where he is studying broadcast journalism.
"People always ask me, you know, 'how are you?', insinuating that I am in a worse place than I was, but, I'm not", Jonathan says.
"The only difference is that I can't use my legs."