Wallonia rejects EU ultimatum over Canada free trade deal
Comments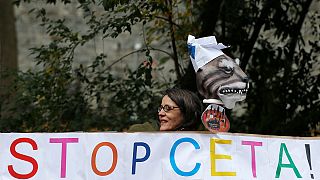 The Belgian region of Wallonia has rejected today's ultimatum to withdraw its opposition to the planned free trade pact between the EU and Canada.
Wallonia's Parliamentary President Andre Antoine said: "Ultimatums and threats are not part of democracy" and that a reasonable delay would be the end of the year.
The problem for European Parliament President Martin Schulz is that the signing ceremony for the long negotiated accord is set for this Thursday.
The refusal of Paul Magnette's French-speaking administration to get on board comes despite support from all 28 EU governments for the Comprehensive Economic Trade Agreement (CETA) deal, including Belgium itself. But to sign the deal, Belgium needs the consent of its sub-federal authorities including Wallonia.
Wallonia leader rejects EU-Canada trade deal ultimatum https://t.co/KGTtInTCBh

— Reuters Business (@ReutersBiz) 24 octobre 2016
Walloons have concerns about the threat of surging pork and beef imports from Canada and an independent court system to settle disputes between states and foreign investors, which critics say allows multinationals to dictate public policy.
The region's stance, defying the EU ultimatum, has been backed by former Greek Finance Minister Yanis Varoufakis.
Bravo Wallonia for saying NO to CETA and its dreadful private tribunals. Constructive Disobedience in action #DiEM25https://t.co/BfhoUQSy7Y

— Yanis Varoufakis (@yanisvaroufakis) 24 octobre 2016
CETA supporters in the European Union say it would increase trade between the partners by 20 percent and boost the EU economy by 12 billion euros a year.