Hundreds recreate Napoleonic battle
Comments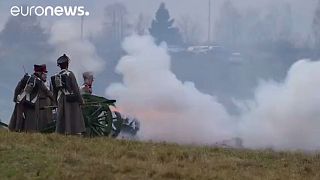 Members of Russian historical reconstruction clubs on Sunday reenacted the Battle of Maloyaroslavets which took place near Moscow during the 1812 Napoleonic war in Russia.
Reflecting events from more than 200 years ago, participants playing French and Russian troops "attacked" each other with artillery, infantry and cavalry. The town of Maloyaroslavets, located around 120km (75 miles) south-west of Moscow, passed between the control of both sides eight times over several days in October 1812.
After Napoleon's decision to evacuate Moscow, French troops withdrew from the Russian capital when the Russian army – led by Field Marshal Mikhail Kutuzov – caught up with the retreating French army, ruining their plans to winter in southern Russia.
More than 12,000 people died during the fight at Maloyaroslavets.