Spain's Rajoy welcomes Socialists' decision to end political deadlock
Comments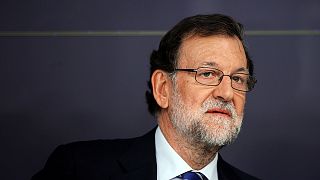 Mariano Rajoy is heading towards a second term as Spain's Prime Minister, after Socialists agreed not to block his latest bid to form a government.
The conservative leader welcomed the decision of his left-wing rivals to abstain from a confidence vote on Friday:
"I want to say that yesterday's decision was in my opinion very reasonable. (…) I have read the resolution approved by the Socialist Party yesterday and there are good things we can talk about in the future and, if there is political will, Spain can have a great future."
By abstaining from voting against Mariano Rajoy and his Popular Party in a confidence vote in Parliament, the Socialists have given tacit permission for Rajoy to lead the government.
139 party members voted in favour of abstaining, 96 voted against and two abstained.
Resilient Rajoy. https://t.co/iYrM9Niwe3

— Yannis Palaiologos (@yanpal7) October 24, 2016
The country has been in limbo after elections in December and June failed to deliver a majority government. Facing the prospect of a third general election within a year or allowing Rajoy to govern, the Socialists ceded ground on Sunday. The interim leader said, it was the 'least bad' of the two options.
However, it has left the opposition fractured, with many saying they will join the anti-austerity Podemos party.