Spain's Rajoy pleas for support to avoid third election
Comments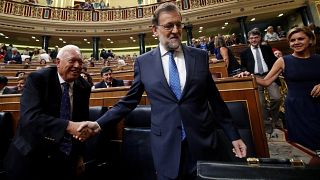 Spain's caretaker prime minister Mariano Rajoy has called for a "stable," "long-term" government, as he addressed parliament ahead of a confidence vote for a second term in office.
The country has been in limbo for eight months after two inconclusive elections.
Rajoy's centre-right People's Party secured the most votes in the latest poll in June, but lacks the majority needed to win.
"Spain needs an effective (operational) government, and urgently. Spanish (voters) have been clear on their preference of the People's Party. Thirdly, there's no other viable alternative (to our proposal)," said Rajoy.
The eight-month deadlock has been delaying investments and government appointments in Spain.
Rajoy also stressed that economic agreements with Brussels have to be met.
"It's important to respect the terms of implementing the agreement with Europe before 15 October," he told the parliament.
"The consequences would be extremely grave. Among other things, there would be sanctions against our country and a loss of important European funding sources. And a significant loss of credibility gained through the years."
But the odds look stacked against Rajoy, with the opposition Socialists refusing to back him or smooth the way to a PP-led minority government.
A third election in a year could well be on the cards.