Hungarians remember revolution 60 years on
Comments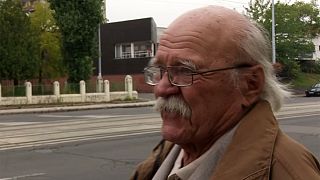 Sixty years ago to the day the world watched in awe and horror as Hungarians took to the streets and rose up against the Soviet Union.
What began as a student uprising soon turned into a major revolt against Moscow's rule in the eastern bloc.
Within a matter of weeks however, Hungary's revolution would be brutally crushed.
Ferenc Vogyerák was 18 years old in 1956 and was studying in Budapest when he heard about the uprising.
"Those were really revolutionary times. And here, after this, the classes at the school were held under – let's say – wartime circumstances," Ferenc said.
The revolution saw thousands of Hungarians join rebel militias, demanding independence, free elections and the withdrawal of Soviet troops.
Hungary's government soon collapsed but as the West watched on Moscow moved in.
Ferenc says he saw soldiers open fire on people waiting at a local bakery.
"They (the Soviets) saw the people queuing here, just ordinary people queuing up for bread, but I think for some stupid motivation they started shooting here and many people died, the dead bodies were lying on the ground here.
"It had some positive things too, that maybe we became a little bit freer after that, and we could live a calmer life for a while. Not for a long time, but for a while, yes," Ferenc added.
By its end, more than 2,500 Hungarians and around 700 Soviet soldiers were dead.
The fighting also forced another 200,000 people to flee Hungary, most of them through Austria.