Saving CETA - emergency meetings held in Brussels
Comments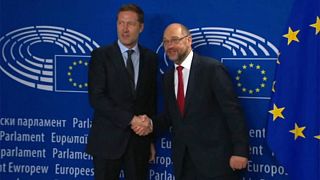 In my mind, there's no problem we can't solve

President, EU parliament
Emergency meetings are being held in Brussels to try and pull a landmark EU free trade deal back from the brink of collapse.
Canada's trade minister says it is up to the EU to save the CETA deal. It is being blocked by opposition from Belgium's French-speaking region, Wallonia.
The minister quit talks on Friday with chief Canadian and EU trade negotiators and Walloon premier Paul Magnette.
What is the

CETA

deal?
The Comprehensive Economic and Trade Agreement (CETA) deal, the EU's first with a G7 country, is due to be signed next Thursday.
It will lift tariffs from a large amount of goods between Canada and EU member states.
Supporters say it will increase trade between the partners by 20%.
What has Chrystia Freeland said?
Canada's trade minister described reaching a deal with the EU as "impossible".
Canada is ready to sign the pact, she added, and negotiations on its finer points are over.
"We have done our job. We have finished negotiating a very good agreement. Now the ball is in Europe's court," Freeland said after meeting EU parliament president Martin Schulz.
"I hope I can return in the next few days with my prime minister to sign the treaty as planned."
Statementby EP_President</a> and <a href="https://twitter.com/cafreeland">cafreeland Ministerof Trade of Canada followingtheirmeeting https://t.co/lttAjzPUW7#CETA

— JaumeDuch(@jduch) October22, 2016


What has Paul Magnette said?
Wallonia's minister-president says his discussions with Canada have concluded and the remaining issues to be worked out are for the EU executive to address.
"We have still some little difficulties among Europeans. We won't hide that so we still have to work and discuss for a certain amount of time."
"I'm not here to make problems. On the contrary, I am here to make sure we have treaties which include an element of social, environmental and public service protection and which have the highest level of judicial guarantee in the world."
#ceta : Je ne donnerai pas les pleins pouvoirs au gouvernement fédéral. Les garanties ne sont pas suffisantes. #walgov#parlwal

— Paul Magnette(@PaulMagnette) October 14, 2016


What has Martin Schulz said?
The EU parliament president is not directly involved in the CETA talks.
However, he is described as having "good working ties" with Freeland and has held an emergency meeting with Paul Magnette in a bid to revive the deal.
"The door for every step forward is open but it is quite clear that the problems on the table are European problems," Schulz said.
"In my mind, there's no problem we can't solve. I'm very optimistic we're going to find a solution for CETA that is going to make the project better. It is already a very, very good agreement."
Mystatementfollowingthismorning's fruitfuland constructive meetings withcafreeland</a> and <a href="https://twitter.com/PaulMagnette">PaulMagnette on #CETA in #EPpic.twitter.com/YeGBKhe9zg

— EP President(@EP_President) October 22, 2016


What has the EU Commission said?
EU Trade Commissioner Cecilia Malmstrom said she still hoped to find a solution to the deal.
It is due to be signed at a summit with Canadian Prime Minister Justin Trudeau next Thursday.
Wehave engagedwholeheartedlyw Walloniathe last days. Trulysadtalkshave been halted. Stillhopeto findsolution in orderto signCETA

— Cecilia Malmström(@MalmstromEU) October 21, 2016


The background
All 28 EU governments support the Comprehensive Economic and Trade Agreement (CETA).
However, Belgium cannot give assent without backing from its five sub-federal administrations.
Wallonia, one of them, has steadfastly opposed it.
Wallonia
Home to 3.5 million people
Less than 1% of the EU's 507 million citizens
The EU's flagship trade project rests on the will of the tiny region's government.
Walloons have concerns about the threat of surging pork and beef imports from Canada.
There is also a question mark about an independent court system to settle disputes between states and foreign investors, which critics fear hands power to multinationals.
More than just a trade deal
Analysts say if CETA fails, the EU's hopes of completing similar deals with the US (TTIP) or Japan will be in tatters.
The concern is the debacle is undermining the bloc, already battered by Britain's vote to leave and disputes over Europe's migration crisis.