Trump refuses to say if he'll accept presidential result
Comments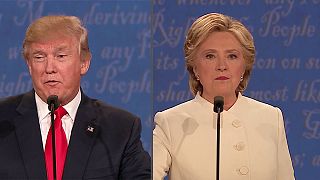 Donald Trump has refused to say whether he will accept the outcome of the November 8 presidential election.
In his third and final TV debate with Democratic rival Hillary Clinton, the Republican candidate once again made election-rigging claims, leaving open the possibility that he might challenge the result.
She should never have been allowed to run for the presidency

Republican presidential candidate
- Presenter: "Will you absolutely accept the result? – Trump: "I will look at it at the time. I am not looking at anything now, I'll look at it at the time. What I have seen is so bad – first of all, the media is so dishonest and so corrupt and the pile on is so amazing. The New York Times actually wrote an article about it – that they don't even care. It's so dishonest. They have poisoned the minds of the voters. But unfortunately for them voters are seeing through it."
That was really exciting. Made all of my points. MAKEAMERICAGREATAGAIN!

— Donald J. Trump (@realDonaldTrump) October 20, 2016
Clinton responded by saying she was appalled by Trump's stance on the fairness of the election.
"Let's be clear about what he is saying and what that means: He is denigrating, he is talking down our democracy and I for one am appalled that someone who is the nominee for one of our two major parties would take that position," she said.
The face-off in Las Vegas had begun in the time honoured way of being an issue-based clash but then got personal.
Trump: "Putin from everything I've seen has no respect for this person"
Clinton: "That's because he'd rather have a puppet as president on the United States (…) You are willing to spout the Putin line, sign up for his 'Wish list', break up NATO, do whatever he wants to do."
That feeling when you win three straight debates. #DebateNightpic.twitter.com/KlH090F57W

— Hillary Clinton (@HillaryClinton) October 20, 2016
Clinton had her own uncomfortable moments with Trump picking at her weak spot and her misuse of classified email material.
"She shouldn't be allowed to run," said Trump. "She's guilty of a very, very serious crime. She should not be allowed to run and just in that respect I say it's rigged because she should never have been allowed to run for the presidency based on what she did with emails and so many other things."
Clinton who leads in the polls wanted to show why she is best suited to succeed President Obama. Trump was after those elusive undecided voters.