Obama tells Trump 'to stop whining'
Comments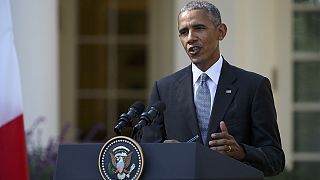 President Barack Obama has voiced his opinion of Donald Trump's election-rigging claims while also telling the Republican candidate to stop whining.
An incredulous Obama said that to discredit the November 8 poll was unprecedented by a presidential candidate.
"If you start whining before the games even over, if whenever things are going badly for you and you lose you start blaming somebody else, then you don't have what it takes to be in this job."
"I'd advise Mr. Trump to stop whining and go try to make his case to get votes," added Obama.
With opinion polls showing him trailing against his rival Democrat Hillary Clinton, Trump has intensified his allegations, despite numerous studies showing voter fraud in US elections is rare.
At a campaign rally in Colorado Springs Trump warmed to his theme:
"Hillary Clinton is the most corrupt person ever to run for the presidency. But they even want to try and rig the election at the polling booths where so many cities are corrupt and you see that. And voter fraud is all too common. And then they criticise us for saying that."
"THEREALMOGUL</a>: 41% of American voters believe the election could be "stolen" from DonaldTrump due to widespread voter fraud. - Politico"</p>&mdash; Donald J. Trump (realDonaldTrump) October 18, 2016
While Trump is still suffering from the fallout over sexual assault accusations, Hillary Clinton is being dogged by her email scandal. The latest issue is over allegations that undue pressure was put on the FBI by the State Department over yet more classified information.
Either way fireworks are expected in Las Vegas on Wednesday evening local time when Trump and Clinton face off in the third and final presidential debate.