Ten things we learnt after 'Fight Night' - Clinton vs Trump, Round 3
Comments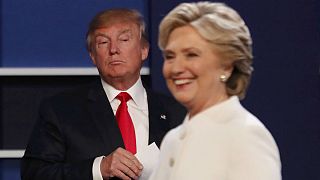 Hillary Clinton and Donald Trump, the two US presidential rivals, had tough and sometimes ferocious exchanges on several issues including abortion, gun control, Russia and immigration during the final 90-minute showdown.
Here's what we can take away from the third and final presidential debate:
1) Republican Trump said he might reject the outcome of the presidential election if he loses, an unprecedented challenge to a cornerstone of American democracy.
2) Democrat nominee Hillary Clinton said she would not support putting American soliders into Iraq as an occupying force.
3) Clinton said she would raise taxes on the wealthy to help fund the US government's Social Security retirement programme.
4) Trump stands by his pledge to make Mexico pay for a wall on its border to keep illegal immigrants out of the US.
5) #BadHombres became one of the most-discussed topics on social media after Trump said he would go after major drug dealers and "get them out" of the country.
6) Reports suggest Trump bought mostly Chinese steel to build Trump International Hotel in Las Vegas.
7) Several fact-checkers agree with Clinton's claim that Donald Trump is the first presidential candidate to not produce his tax returns.
8) Although for the first 35 minutes the debate focused on policy for the first time, the two candidates nonetheless did lash out at each other in personal attacks.
9) Trump said all allegations about his sexual misdeeds were "totally false" and suggested Clinton was behind the charges. He called her campaign "sleazy" and said "nobody has more respect for women than I do, nobody."
10) Clinton claimed 17 different US intelligence agencies have found evidence that senior Kremlin officials have been trying to interfere and influence the election outcome.