[Gallery] Wildlife Photographer of the Year 2016
Comments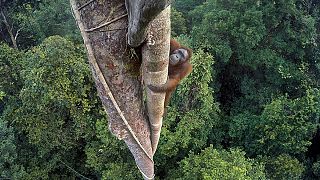 An intrepid photographer's picture of an endangered Bornean orangutan high above the Indonesian rainforest has won a prestigious prize.
Tim Laman landed the Wildlife Photographer of the Year 2016 award for his image, which took three days of rope climbing to set up.
He scaled a 30 metre-tall tree to plant several GoPro cameras, before triggering them remotely to get the orangutan's face with wide-angled shot of the forest below.
Experts warn the orangutan's forest habitat in Indonesia and Malaysia is under threat due to agriculture and logging. They are also hunted for food and poached to feed the illegal pet trade.
American Laman, who beat off competition from 50,000 other entries, said: "Protecting their habitat is critical for orangutans to survive. If we want to preserve a great ape that retains its vast culturally-transmitted knowledge of how to survive in the rainforest and the full richness of wild orangutan behaviour, then we need to protect orangutans in the wild, now."
Meanwhile Gideon Knight, 16, won the Young Wildlife Photographer of the Year award for his picture of a crow and the moon.
Wildlife Photographer of the Year is organised by London's Natural History Museum. An exhibition of the contest's best pictures will be held from October 21, 2016 to September 10, 2017.
Photo gallery
Click the arrows to scroll through the photos. Select the photos to see the full descriptions.