Trump 'way behind where Romney was' in 2012 election
Comments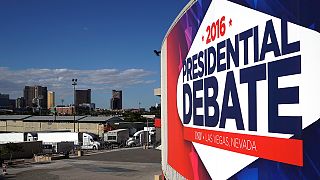 Donald Trump, trailing Hillary Clinton in the polls, has been accused by the rival Democratic camp of "desperation" by alleging that November's presidential election is "rigged" against him even before it has happened.
Trump is way behind where Mitt Romney was four years ago

Euronews Washington correspondent
The Republican nominee's claims have also been dismissed even by prominent Republican supporters.
Following recent revelations and accusations portraying Trump as a misogynist and sexual predator, he has slipped in the polls – although far from catastrophically.
The RealClearPolitics average of national opinion polls, as of Monday, showed Clinton leading Trump by 7.1 percentage points, at 46 percent to 38.9 percent.
Euronews' Washington correspondent Stefan Grobe gives his analysis of the campaign, ahead of the last televised presidential debate this week:
"With three weeks until the election, the latest polls are confirming what the underlying trend lines already indicated.
"Donald Trump is stuck at the lower to mid-forties at best with very little room to grow.
"It is clear that he can't win the presidency on just white working-class men.
"Trump is way behind where Mitt Romney was four years ago, and Romney's loss to President Obama wasn't even close.
"Trump's lack of growth potential partially explains why he has decided to go all in on firing up his core base, while hoping that large parts of the Obama coalition will choose to stay home.
"Meanwhile Hillary Clinton continues to be cautious and run down the clock. Yet her campaign is considering spending resources in conservative states like Georgia, Arizona and even Texas, to put Trump on the defensive.
With so much at stake, expect another big clash in Wednesday's final debate."