French president pushes for longer Aleppo ceasefire
Comments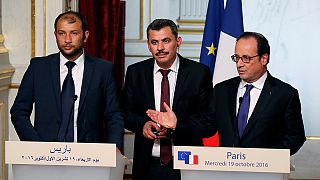 Just hours before he meets the leaders of Russia and Germany, French President Francois Hollande said on Wednesday that he's urgently trying to extend an eleven hour ceasefire planned for tomorrow in Aleppo.
Russia and Syria have already ceased their airstrikes ahead of the official ceasefire on Thursday that hopes to establish six humanitarian corridors in the city that will allow civilians to get out and aid supplies to get in. But Russian Deputy Foreign Minister Sergei Ryabkov said on Wednesday that Russia ruled out extending a pause in bombing of Syria's Aleppo unilaterally.
European leaders have grown increasingly angry over a Russian-backed Syrian government onslaught against Western-backed rebels in Aleppo and the impact on some 300,000 civilians still living there.
"What happens to Aleppo and more widely in Syrian territory, due to the incessant bombardment by the regime and its supporters is unacceptable intolerable, and unbearable. There are three hundred thousand victims since the beginning of the revolution and the war," Hollande told journalists at a joint press conference with the White Helmets volunteer group.
The head of the White Helmets, which says it has saved 62,000 peoples' lives in the besieged city, roundly condemned the international community.
"Frankly, we are going through a humanitarian crisis and even a humanitarian disaster that the world hasn't seen for a hundred years, and I think the international community's credibility is no longer at stake, because it has been lost in this Syrian case," Raed Al Saleh said.
Kids study by candlelight, play in the rubble and dream of proper meals … Inside life as a child in a besieged city in #Syria. #Habitat3pic.twitter.com/4Pu00H40wh

—

ICRC

(@ICRC) October 18, 2016
White Helmet volunteers are usually first on the scene after a Russian or Syrian government airstrike, digging for survivors amongst the rubble.
40 killed and 70+ injured including 1 SCD volunteer after Oweijel village in #Aleppo western countryside was targeted with 3 Airstrikes. pic.twitter.com/AA38JRTl6N

— The White Helmets (@SyriaCivilDef) October 17, 2016
The group, who say they take no sides when it comes to rescuing people, were nominated for this year's Nobel Peace Prize.