Deadly air raid near Aleppo sparks diplomatic row between Russia and Belgium
Comments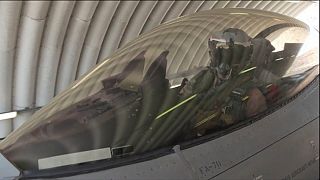 Belgium's foreign ministry has summoned the Russian ambassador following claims by Moscow that Belgian jets had killed six civilians in an air strike near Aleppo.
The incident has sparked a diplomatic row with Belgium vehemently denying any of its jets supporting the US-led coalition in Syria were active in the area at the time.
The information was contained in the ""Bulletin of the Russian Centre for reconciliation of opposing sides in the Syrian Arab Republic"":http://eng.syria.mil.ru/en/index/syria/reconciliation_centre_bulletins/more.htm?id=12100151@egNews
Statement
"According to the information, which had been received by the Russian Centre for reconciliation of opposing sides from representatives of the Afrin council, Hassajek village suffered an air strike at 3 a.m. on October 18.
Two living houses have been destroyed, 6 people were killed and 4 ones were injured.
Aircraft of the Russian Aerospace Forces and Syrian Air Force did not operate in this region.
Aircraft of the international coalition were performing tasks near Hassajek village at night on October 18. Air situation control systems have detected two F-16 of the Air Force of the Kingdom of Belgium at the specified time and area."
Belgian Foreign Minister Didier Reyndrs said his government was taking steps to communicate with Russia's military representatives in Brussels via the defense ministry, and to make sue sure that the Russian ambassador gets the message loud and clear that Belgium disagrees. Indeed, he said, "it is unacceptable to make such accusations without first contacting us and without any verification".
Russia says two Belgian jets were identified in the region where the deadly air strike took place.
Both Russia and Syria say their air forces were not operating there ahead of Thursday's eight-hour truce.